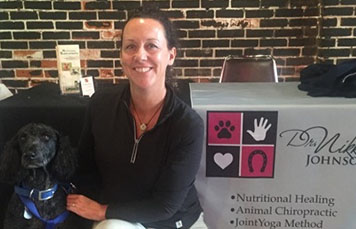 Using Chiropractic treatments, Dr. Johnson has been helping all breeds of animals, large and small since 1997. In 2007, she began looking closely at a more holistic spectrum of the healing equation. In studying nutrition and
JointYoga Method, she now offers those healing capabilities to all animals, as well as to members of her own ?pack,? that being humans. She is dedicated to natural health services and education for you and your entire family.
Dr. Nikki?s areas of expertise are:
Animal Chiropractic and pain-free JointYoga Chiropractic
Human Chiropractic and pain-free JointYoga Chiropractic
DNA testing ?Nutrigenomics?: Julie and Nikki are on the cutting edge of new technologies in holistic care. We are able to provide you with genetic testing and custom lifestyle and diet programs that are specific to YOUR DNA.
Animal Food Sensitivity Testing: All of our doctors are able to help you with your animal?s sensitivity to 24 food items through saliva immunoglobulin testing. Ask us about testing your animals today to get your animal?s diet right and take the mystery out of food sensitivities!
Classes and lecturing to lay and professional groups worldwide about natural health and the JointYoga method of healing.
Light Therapy: This technology originally developed for NASA is FDA approved for Musculoskeletal pain and anti-aging applications. It speeds healing and reduces inflammation speeding recovery from sports injuries and trauma.